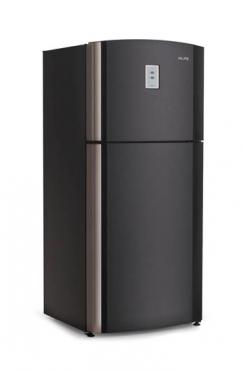 Model: Refrigerator - Top Mount
Total Capacity: 662 L
Cooling Type: No Frost
Available Colors:
Black
Stainless Steel
White Glossy
- CFC Free, environment friendly refrigerant and insulation material.
- Available with tempered glass shelves.
- Thick insulation layer guarantees best cooling and energy saving.
- High durability PVC laminated steel body with protective layers against rust and weather.
- Easy movement thanks to the 4 wheels beneath facilitating the kitchen cleaning.
- Complies with the requirements of the European safety directives, CE Conformity marking.
- Electronic temperature control with & without digital display.
- Homogenous cooling in all shelves thanks to the Multi-Flow air distribution unit.
- Separate temperature control for each of the freezer & the fridge.
- Reversible door available for some models upon request.
- LED lighting in both freezer & fridge compartments.
- Ice-twister available upon request.
- Door handles are available in 5 distinct shapes: Built-in, S-shape, short rounded, long rounded, and long tube.