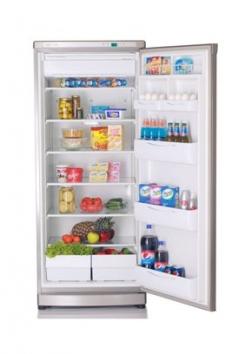 Model: Refrigerator - Single Door
Total capacity: 370 L
Cooling Type: No Frost
Available Colors:
Marble
Stainless Steel
- CFC Free, environment friendly refrigerant and insulation material.
- Tempered glass shelves.
- Thick insulation layer guarantees best cooling and energy saving.
- High durability PVC laminated steel body with protective layers against rust and weather.
- Easy movement thanks to the 4 wheels beneath facilitating the kitchen cleaning.
- Complies with the requirements of the European safety directives, CE Conformity marking.
- Electronic temperature control with digital display.
- Homogenous cooling in all shelves thanks to the Multi-Flow air distribution unit.
- Can be combined with our freezer, model Alaska, together making an elegant side-by-side fridge freezer set (see picture below).
- Reverse aperture door available upon request.